KULTUROWE I PSYCHOLOGICZNE ASPEKTY KINEMATOGRAFII – NEGATYWNE SKUTKI FILMU
Ключові слова:
film, psychologia filmu, etyka filmu, wpływ filmu, odpowiedzialność twórcy.
Анотація
Niniejszy artykuł przybliża tematykę możliwych konsekwencji wynikających z oddziaływania filmu na oglądającego. Autorki podejmują próbę przedstawienia negatywnych skutków, będących konsekwencją kontaktu ze specyficznym rodzajem kina. Z jednej strony zauważa się znaczenie filmu dla podtrzymywania szkodliwych społecznie stereotypów, dotyczących, np. postrzegania chorób psychicznych czy wizerunku kobiet i mężczyzn (społecznie przypisywanych ról czy oczekiwań). Z drugiej strony podkreśla się istnienie szeregu negatywnych skutków, wynikających z bardzo wczesnej ekspozycji na telewizję i inne materiały audiowizualne. Podejmując rozważania nad wpływem kina, w artykule opisano także czym cechują się nieodpowiednie treści filmowe i w jaki sposób młodzi widzowie naśladują zachowania bohaterów filmowych. W dalszych częściach tekstu czytelnik zapozna się z nowym pojęciem, obrazującym kino wywołujące negatywne doświadczenia poznawcze i emocjonalne. Artykuł zamykają podrozdziały, dotyczące odpowiedzialności twórców w zakresie tworzenia dzieł mogących mieć negatywny wpływ na oglądających (niekiedy nawet niezależnie od wieku). Autorki poruszają temat granic twórczości czy etyki produkcji filmu, wymieniając w tym kontekście kilka rodzajów etyczności tworzenia dzieła audiowizualnego. Celem artykułu jest podkreślenie, iż mimo wiązania filmu z pozytywnymi aspektami - rozrywką, odpoczynkiem czy formą sztuki, może mieć on także negatywny wpływ na widza. Podkreśla się potrzebę prowadzenia badań empirycznych, dotyczących długofalowych konsekwencji obejrzanego filmu na różnorodnych widzów. Film, bez odpowiedzialnych i świadomych postaw odbiorców (konsumentów), stanowić może niebezpieczne narzędzie. Jak wiadomo przemysł filmowy pozostaje niezwykle dochodową gałęzią działalności komercyjnej, co niektórych twórców może skłaniać do masowego «testowania» granic publiczności.
Посилання
Anderson, C. A. (1997). Effects of violent movies and trait hostility on hostile feelings and aggressive thoughts. Aggressive Behavior: Official Journal of the International Society for Research on Aggression, 23(3), 161–178.
Bałutowski, D. (2010). Jak oglądać filmy z młodzieżą. Wydawnictwo Fraszka Edukacyjna, Warszawa, 2010.
Działa, B. (2012). Społeczny odbiór osób homoseksualnych a edukacyjny potencjał filmu. Ogrody Nauk i Sztuk, (2), 358-373.
Behm-Morawitz, E., & Mastro, D. E. (2008). Mean girls? The influence of gender portrayals in teen movies on emerging adults' gender-based attitudes and beliefs. Journalism & Mass Communication Quarterly, 85(1), 131–146.
Bojarska, K. (2011). Psychiczne i społeczne uwarunkowania stereotypów, uprzedzeń i dyskryminacji, [w:] Denas, D. (red.). Jak zorganizować wydarzenie antydyskryminacyjne, podręcznik działań w społecznościach lokalnych. www. przeciwdzialajdyskryminacji.pl/ podrecznik_przeciwdzialajdyskryminacji.pdf. 12.
Brol, M. (2014). Psychologia i film. W: M. Brol, A. Skorupa (red.), Psychologiczna praca z filmem, 11–40. Katowice : Wydawnictwo Uniwersytetu Śląskiego.
Brzozowska, I., & Sikorska, I. (2016). Wpływ telewizji na rozwój poznawczy dzieci poniżej 3. roku życiaprzegląd badań.». Developmental Period Medicine», XX, 1, 75–81.
Coyne, S. M., Linder, J. R., Rasmussen, E. E., Nelson, D. A., & Birkbeck, V. (2016). Pretty as a princess: Longitudinal effects of engagement with Disney princesses on gender stereotypes, body esteem, and prosocial behavior in children. Child development, 87(6), 1909–1925.
Elsaesser, T. (2009). The Mind-Game Films. W: W. Buckland (red.), Puzzle Films: Complex Storytelling in Contemporary Cinema, Oxford, 2009. 10. Ferrell, D., Silverman, M. (2014). A Dangerous Movie? Hollywood Does Psychoanalysis. Journal of Religion and Health, 53, 6. DOI: 10.1007/s10943-014-9930-3.
Igartua, J. (2010). Identification with characters and narrative persuasion through fictional feature films. , 35, 4, 347–373. DOI: https://doi.org/10.1515/comm.2010.019.
King, G. (2021). The Cinema of Discomfort. Disquieting, Awkward and Uncomfortable Experiences in Contemporary Art and Indie Film. Bloomsbury Publishing, 2021.
Kozubek, M. (2016). Filmoterapia. Teoria i praktyka. Wydawnictwo Słowo/ Obraz Terytoria, Gdańsk 2016.
Kubrak, T. (2020). Impact of Films: Changes in Young People's Attitudes after Watching a Movie. Behavioral Sciences, 2020, 10. DOI: 10.3390/bs10050086.
Kumari, A., & Joshi, H. (2015). Gender stereotyped portrayal of women in the media: Perception and impact on adolescent. IOSR Journal of Humanities and Social Science (IOSR-JHSS), 20(4), 44–52.
Lacroix, C. (2004). Images of animated others: The orientalization of Disney's cartoon heroines from The Little Mermaid to The Hunchback of Notre Dame. Popular Communication, 2(4), 213–229.
Lines, L. (2015). Chains & Whips: Gender Roles in BDSM Erotica Published After» Fifty Shades of Grey».
Maccarone, E. M. (2010). Ethical Responsibilities to Subjects and Documentary Filmmaking. Journal of Mass Media Ethics, 25(3), 192–206. DOI: 10.1080/08900523.2010.497025.
Mekhakyan, A., Szulc, A., & Imielski, W. (2018). Film jako narzędzie psychoterapeutyczne. Wybrane problemy filmoterapii. Psychiatria, 15(3), 127–134.
Muzur, A., Rinčić, I. (2010). Ethics and film: from identification to moral education in film art. Jahr - European journal of bioethics, 1, 144–152.
Nęcka, M. (2011). Rozszerzanie świata–sztuka w rozwoju świadomości i tożsamości,[w:] M. Jabłońska (red.). Sztuka jako przestrzeń edukacyjna–teoria i praktyka.
Nummenmaa, L. (2020). Psychology and neurobiology of horror movies.
Pawelec, D. (1992). Baśń, mit i film. W: M. Haltof (red.), Kino lęków. Wydawnictwo Szumacher, Kielce.
Pelin, A. V. C. I., BAYRAKDAR, A., & KILINÇARSLAN, G. (2023). Reflections Of Squid Game on Children's Games and Viewers; An Example of Twitter Sentiment Analysis and Qualitative Research. Akdeniz Spor Bilimleri Dergisi, 6(1), 173–185.
Pękala, I. (2018). Ucieleśniona percepcja filmowych gier umysłowych. Literatura i Kultura Popularna XXVII, Wrocław, 2021. DOI: https://doi.org/10.19195/0867-7441.27.33.
Pinchevski, A. (2015). Screen Trauma: Visual Media and Post-traumatic Stress Disorder. Theory, Culture & Society, 33(4), 51–75. doi:10.1177/0263276415619220
Pirkis, J., Blood, R. W., Francis, C., & McCallum, K. (2006). On-screen portrayals of mental illness: Extent, nature, and impacts. Journal of health communication, 11(5), 523–541.
Pisarek, J., & Francuz, P. (2007). Poznawcze i emocjonalne zaangażowanie widza w film fabularny w zależności od typu bohatera. Psychologiczne aspekty komunikacji audiowizualnej, 165-188.
Pryluck, C. (1976). Ultimately We Are All Outsiders: The Ethics of Documentary Filming. Journal of the University Film Association, 28, 1, 21–29. Dostęp: http://www.jstor.org/stable/20687309.
Rusakow, S. (2015). Modern Television Series as a Phenomenon of Popular Culture. Studia Warmińskie, 52, 85–94. https://doi.org/10.31648/sw.123
Sargent, J. D., Heatherton, T. F., Ahrens, M. B., Dalton, M. A., Tickle, J. J., & Beach, M. L. (2002). Adolescent exposure to extremely violent movies. Journal of Adolescent Health, 31(6), 449–454.
Shadel, W. G., Martino, S. C., Setodji, C., Haviland, A., Primack, B. A., & Scharf, D. (2012). Motives for smoking in movies affect future smoking risk in middle school students: An experimental investigation. Drug and alcohol dependence, 123(1-3), 66–71.
Sinnerbrink, R., Trahair, L. (2016). Film and/as ethics. Sub-Stance, 45, 3, 3-15. Dostęp: https://muse.jhu.edu/ article/634214.
Siregar, N., Angin, A. B. P., & Mono, U. (2021). The cultural effect of popular korean drama: Squid game. IDEAS: Journal on English Language Teaching and Learning, Linguistics and Literature, 9(2), 445–451.
Sołodki, P. (2018). Abiekt w filmie. Ekrany, 5, 2018.
Stańczyk, M. (2018). Strefa dyskomfortu. W pułapce kinowej nieprzyjemności. Ekrany, 5, 2018.
Wahl, O. F., & Lefkowits, J. Y. (1989). Impact of a television film on attitudes toward mental illness. American journal of community psychology, 17(4), 521.
Wonderly, M. (2009). Children's film as an instrument of moral education. Journal of Moral Education. 38, 1, 1-15. DOI: 10.1080/03057240802601466.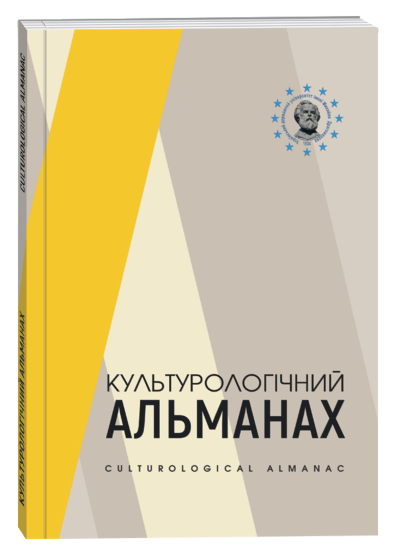 ##submission.downloads##
Як цитувати
Bandarzewska, W., Burek, P., & Gliszczyńska, S. (2023). KULTUROWE I PSYCHOLOGICZNE ASPEKTY KINEMATOGRAFII – NEGATYWNE SKUTKI FILMU. Культурологічний альманах, (2), 210–218. https://doi.org/10.31392/cult.alm.2023.2.29